Royal Dental Clinic
رائج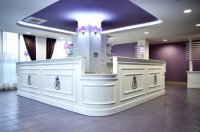 address
bld. Pipera Tunari No. 61, Bucharest, Romania, 077190
تقييمات العضو
(
2

) تقييمات

Staff hygiene and cleanliness

10.0 (2)

Organization (living, planning of care ...)

9.0 (2)

Polite and patient communication

10.0 (2)

Quality care and modern facilities

10.0 (2)

Price / quality ratio

10.0 (2)
Staff hygiene and cleanliness
10.0
Organization (living, planning of care ...)
10.0
Polite and patient communication
10.0
Quality care and modern facilities
10.0
Price / quality ratio
10.0
One word ... one hat !!!
15 days (from personal stress) between the first visit, my decision and action !!!
19 extraction of teeth, which poses 12 6 implants with immediate loading and 6 with other bone graft.
In summary: hygiene, listening, availability, responsiveness and professionalism, both in that approach in action (including reimbursement dossier SS France).
Next intervention in 5 / 6 months to put into operation 6 implants with transplants and permanent prostheses. I must wait calmly this last intervention
Additional Information (optional)
Care received
extraction-de-teeth
-bone graft
implant
dental prosthesis
هل كان هذا التقييم مفيدا لك?
Staff hygiene and cleanliness
10.0
Organization (living, planning of care ...)
8.0
Polite and patient communication
10.0
Quality care and modern facilities
10.0
Price / quality ratio
10.0
Excellent
I had major dental problems, 3 years ago my top boxes and bridges were my dentist offered me a quote with 6 implants, a removable temporary prosthesis and a ceramic bridge 12 teeth on implants. The estimate is too expensive, I was obliged to accept any solution not pleasant, especially at my age: extraction from the top of my roots and installation of a removable prosthesis that I had to stick to it every day yours. While I was speaking and I was eating I always felt she was beginning to take off and I was too ashamed. Now it's over!

Last year I joined the Royal Dental site to request a quote, hoping that prices would allow me to make me heal properly without spending too much (I raise my two children alone and it is not easy to save money). I was quickly contacted and I got answer to all my questions. And above all, I got a great quote 8540 € for a treatment that France was costing me € 19200 !!! And for the same quality! To not mention that I had a temporary implant with immediate loading instead of a removable prosthesis. I admit that I was a little afraid to go to a country I did not know when I accepted the quote. But my coordinator has been able to reassure me, so I went to the adventure.

They are busy to organize my stay and I had the pleasure of a wonderful team that welcomed me and treated me with great care and professionalism. I am very happy with the result, now I smile without fear and I accept with pleasure the compliments on my beautiful smile. Small flat for the planning of care at the clinic, which has suffered some changes during my stay but a big BRAVO for their professionalism and the highest quality of care.

Additional Information (optional)
Care received
bridge
crown
descaling
extraction-de-teeth
implant
هل كان هذا التقييم مفيدا لك?